Dice Magazine: "New Edge, making dreams happen" (3 of 3)
Dream's precursor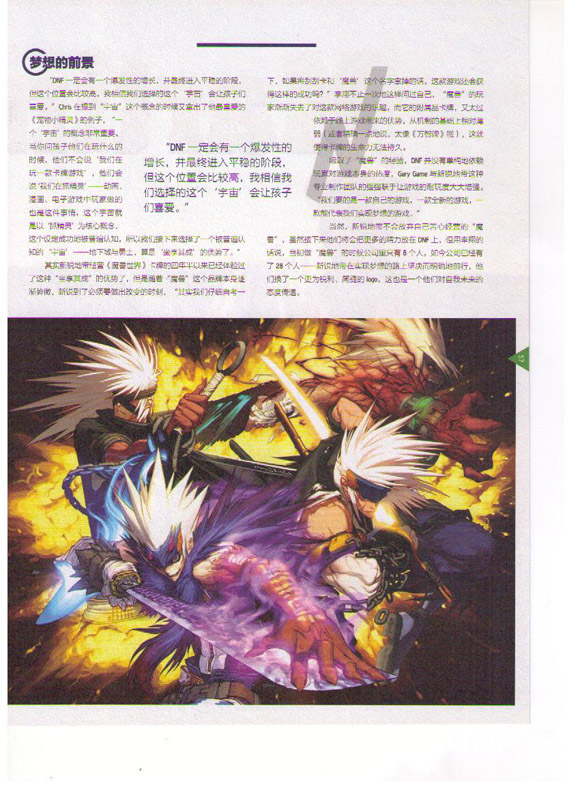 "DNF TCG will certainly have explosive growth, then settle into a more stable period, but the level during that period will be higher. We feel that this 'universe' will be one that kids will really enjoy." When Chris mentions the kind of thinking he means by "universe," he uses a favorite example "Pokemon." "A 'universe's' set up is very important. When you ask kids 'What are you playing?' they don't answer 'We are playing a card game.' They will tell you, 'We are catching Pokemon." Whether in animation, comics, and (video) games, players are all centered on this activity. So, in this 'universe,' everything has to do with 'catching them all' which is known to all. Likewise, when we were choosing – we wanted a commonly recognized setting and 'universe,' so chose "Dungeons & Fighters" (a.k.a. Dungeon Fighters Online), with its strong band of followers.
As a matter of fact, New Edge has been carrying the "World of Warcraft trading card game" (WoW TCG) for more than four years, and so has a lot of experience with "strong bands of followers."  However as the WoW band slackens, New Edge had to find its own way. "In fact, we took a close look at it for ourselves, if you took the scratch cards and even the WoW name off the game, would this game survive?" asked himself many times. WoW's players online were losing their passon for the game, therefore the strength of the TCG which relied heavily on the online strength was also becoming weaker (writers note: or perhaps we can add, "its a little too much like 'Magic: The Gathering'!), and therefore could not last forever.
From this WoW experience, the DNF TCG will not rely on the familiarity with the online game as heavily. Gary Games and New Edge have formed a strategic partnership and team to ensure that the game itself would have a much stronger re-playability. "We wanted to come up with a game, a completely new game, for ourselves – one which let us make our dreams become reality."
Of course, New Edge will not be quitting on the WoW TCG which it has spent years cultivating. Even though they are placing a lot of effort into DNF TCG, Terry Li said that originally there were only eight people doing WoW in the company, and now there are 28. New Edge's dreams have taken a big step, and with that has come their new logo, which is a step in their changing attitude.